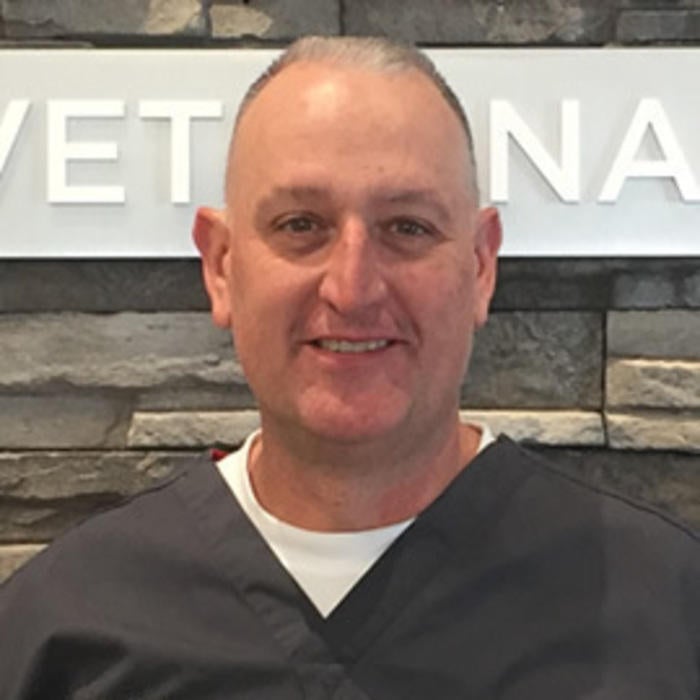 Kent Thomazin
DVM / Owner
Dr. Kent Thomazin is a 1991 graduate of Kansas State University. He grew up in rural Nebraska where his father was a veterinarian. He started working with his dad and knew very early that he wanted to be a veterinarian. Dr. Thomazin has practiced small animal medicine in the Seattle area since 1993, and opened Salish Veterinary Hospital in 2016. His interests are primarily surgery, especially orthopedics, but enjoys all aspects of small animal surgery and medicine.
Dr. Thomazin has three daughters; the oldest Kassie attends Eastern Washington University, Katie and Klara are both in high school. They keep him very busy with all of their activities. Dr. Thomazin and his girls have a 11 year old Golden retriever "Jasmine", 3 cats, "D" a polydactyl Manx, "Wilbur" a Chelan Walmart parking lot cat, and "Elsa" who was found as an abandoned kitten at 2-3 weeks of age. There is a Bunny named "Marshmallow" and possibly a few other critters that he is not aware of.
In his spare time, Dr. Thomazin enjoys restoring his old cars, riding his motorcycle, golfing, hunting, fishing and trying to keep up with his girls.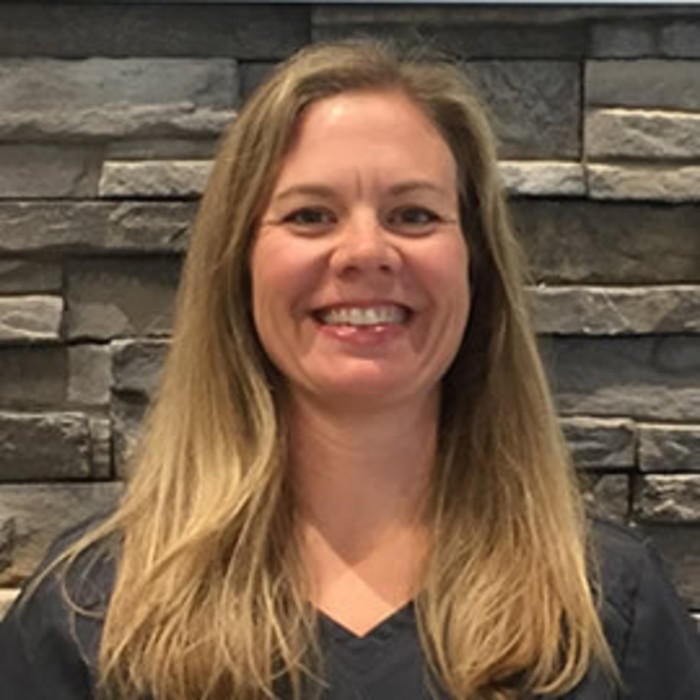 Twyla Brown
DVM
Dr. Twyla Brown graduated from California Polytechnic State University with honors in marine biology and ecology in 1996. She graduated from the College of Veterinary Medicine at Washington State University in 2003 and spent her first year gaining surgical experience. Dr. Brown was previously at the Animal Hospital of Newport Hills since 2004 and enjoys surgery, geriatric medicine and preventative medicine. Dr. Brown and her husband, Jeremy, have twin daughters, McKenzie and Madison, and live with their yellow lab "Piper" and their three cats named "Roofus," "Nash," and "Lily."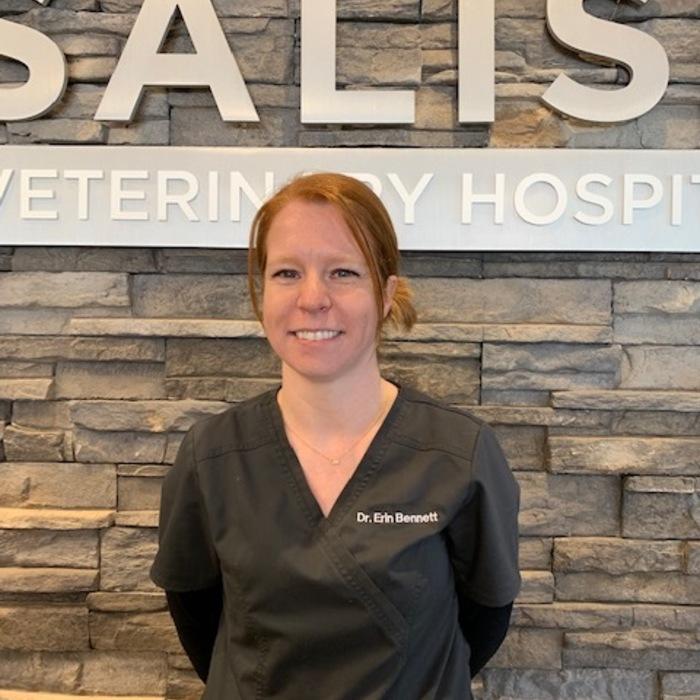 Erin Bennett
DVM
Dr. Bennett grew up on a small farm in Port Angeles Washington. She completed her undergraduate degree at Washington State University receiving a bachelors of science in zoology. She was accepted to the Oregon State University College of Veterinary Medicine and graduated in 2015. Dr. Bennett's medical interests include cardiology, theriogenology, and shelter medicine. Dr. Bennett and her husband live on a small urban farm with their chickens, guinea pigs, cats (Murmur and Theodore), and corgis (James and Bella). Besides collecting animals, she enjoys traveling and a variety of outdoor activities.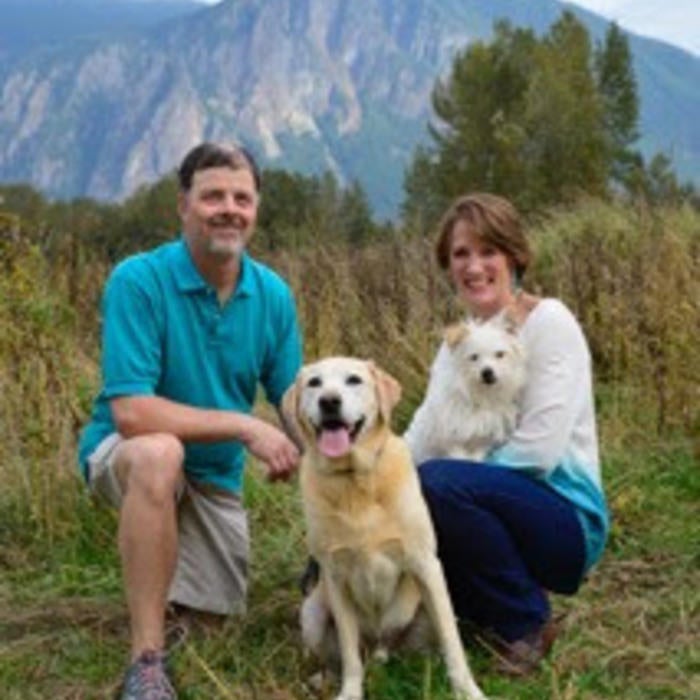 Shan Rosenkranz
DVM
Shan Rosenkranz grew up just north of Minneapolis/St. Paul, Minnesota. She received her bachelor's degree in chemistry from Moorhead State University in 1993. She graduated from the University of Minnesota Veterinary College in 1997. She worked for 8 years in the Twin Cities before moving to Washington in 2006. She then joined the Animal Hospital of Newport Hills for 13 years. Interests include preventative medicine, internal medicine(including renal disease, immune-mediated and endocrine disease) and oncology. She and her husband Gary moved to North Bend in 2013. They love living in the valley and getting to know the community. They share their home with a yellow lab "Scout", a rescue terrier "Monkey" and a rescue cat "Dewey". Shan enjoys running, hiking and cross-country skiing as well as traveling. She is thrilled to be joining the staff at Salish.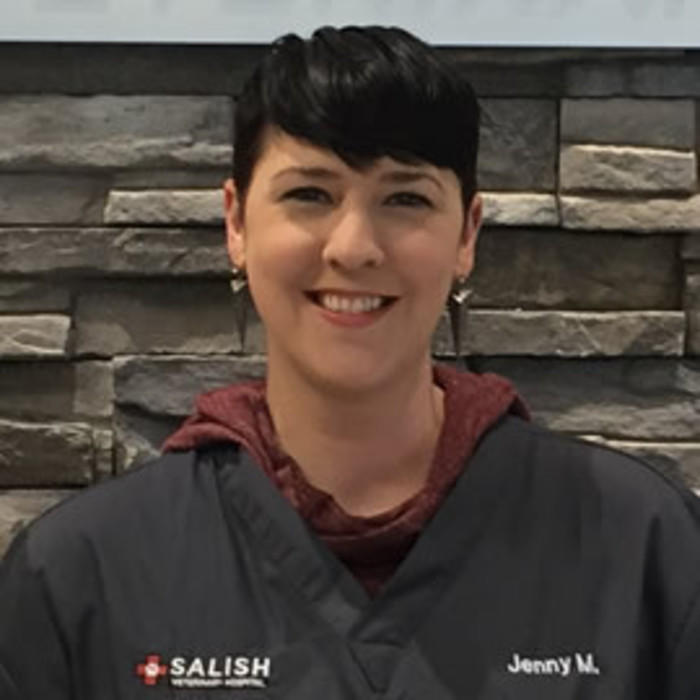 Jenny M.
Office Manager
Jenny our office manager has over 20 years of experience in the veterinary field. She has worked many of those years with Dr. Thomazin, Dr. Brown and the rest of the Salish Veterinary staff at a previous hospital. She lives in Renton with her husband and daughter. Her pets include 2 yellow labs, a boxer/pit mix, a domestic short hair cat and her daughter has several small reptiles and amphibians. Jenny's outside interests include anything culinary, hiking and cars.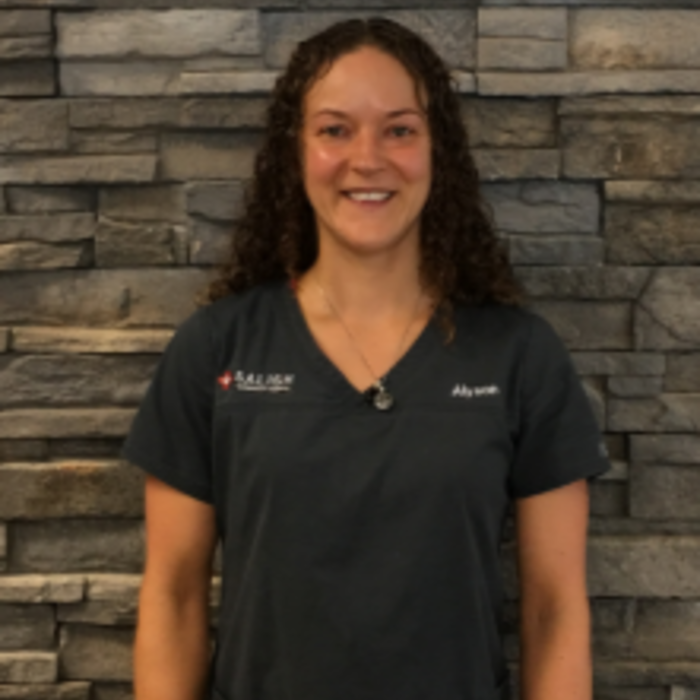 Alyson
Licensed Veterinary Technician
I have worked in the field for 5 years and ever since I started I felt like this is what I was meant to do. Helping sick animals get well and being able to witness a young dog or cat's journey to adulthood is very rewarding. I recently graduated from San Juan College Veterinary Technician program with an AAS in Veterinary Technology. I live in West Seattle with my 2 dogs Boots and Turbo who love being outdoors. In my free time, I like hiking, running and playing with my nieces as much as possible.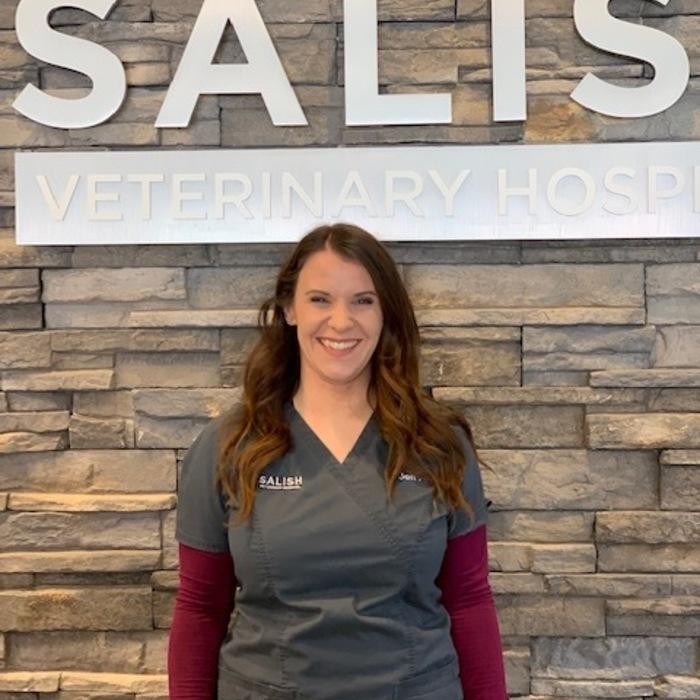 Jenny A.
Veterinary Assistant
Jenny has been working as a Veterinary Assistant for over 15 years. She lives in Maple Valley with her husband and their 6-year-old daughter and 3-year-old son. They share their home with 2 dogs – a long-haired Dachshund named "Lola" and a Golden Retriever mix named "Remi" that she rescued after a long hospitalization due to parvovirus. She also has a cat named "Shortie" who her daughter carries around the house on a daily basis.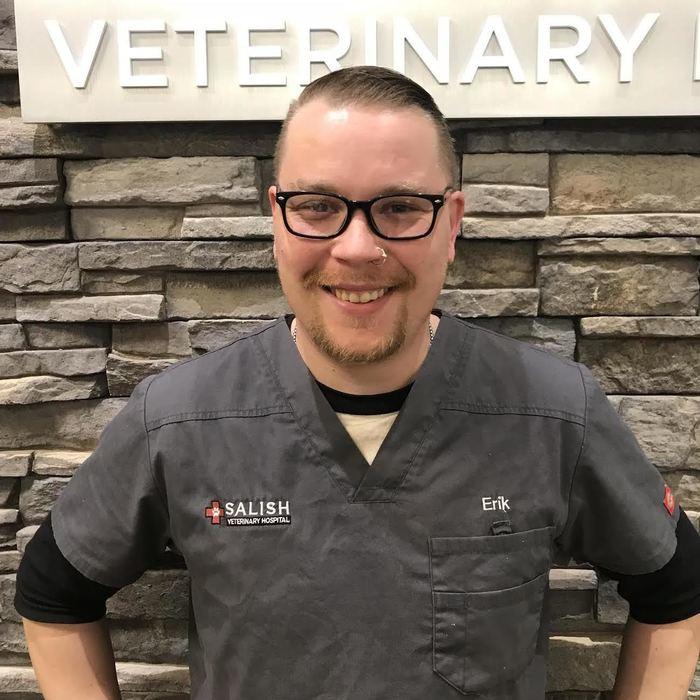 Erik
Veterinary Assistant
Erik has been working with the staff at Salish Veterinary Hospital for over a decade. He plays guitar in a local band that frequents the Snoqualmie area. He owns a cattle dog named Hoti and a husky mix named Ruger along with his cat Don Pancho. Erik loves working with animals and enjoys providing a calm and safe experience for the extra nervous or stressed patients.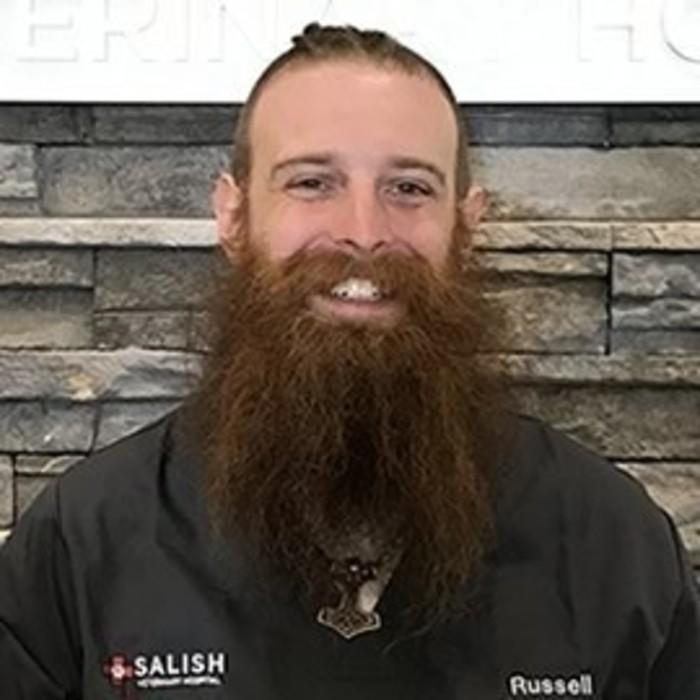 Russell
Veterinary Assistant
Russell has been working in the veterinary industry for 16 years and with the Salish Veterinary Staff for over 10 years. In the past he has spent much time volunteering at PAWS Wildlife Rehab Center. He and his wife Bethany own 2 Persian cats Chippy and Stinky. Russell plays bass in a band that frequently plays around the Snoqualmie and Puget Sound area. He loves nature, camping, riding motorcycles, playing music and taking care of animals.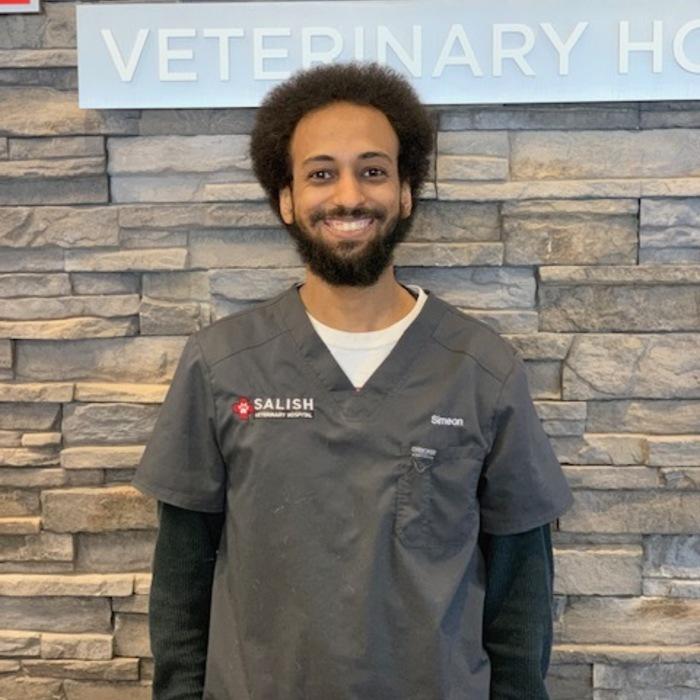 Simeon
Veterinary Assistant
Simeon has been working as a veterinary assistant for 9 years. He has spent all of those years training and working with the current staff of Salish Veterinary Hospital. In his free time he enjoys playing basketball working out and spending time with his English Bulldog named Charlie.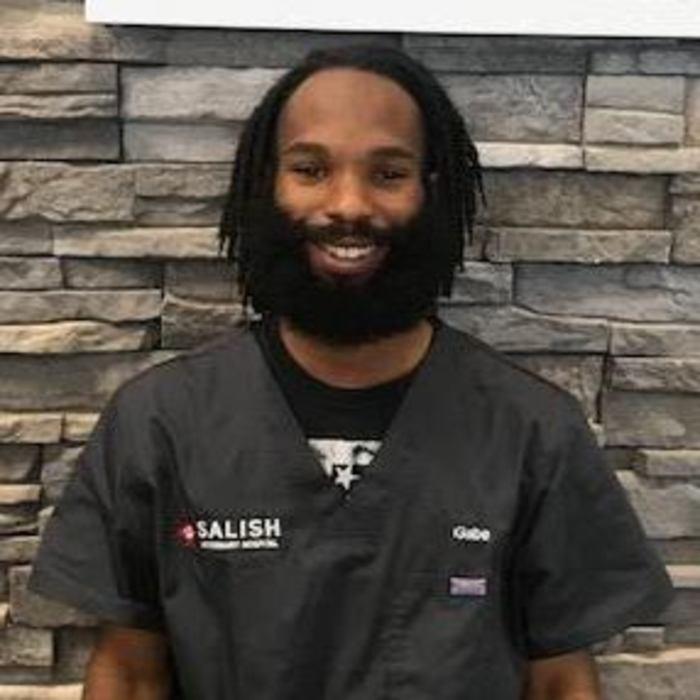 Gabriel
Veterinary Assistant
Gabriel (in his own words) is a music loving, tree and rock climbing, microphone wrecking master of ceremonies. He has lived most of his life in the Seattle area, and a small part in North Carolina. He loves all types of music, but especially enjoys soul, blues and hip hop. He plays bass and piano and writes music, as well as producing beats and other musical arrangements. In his free time when he is not playing shows and making music, he is with his German Shepherd mix named King Zulu.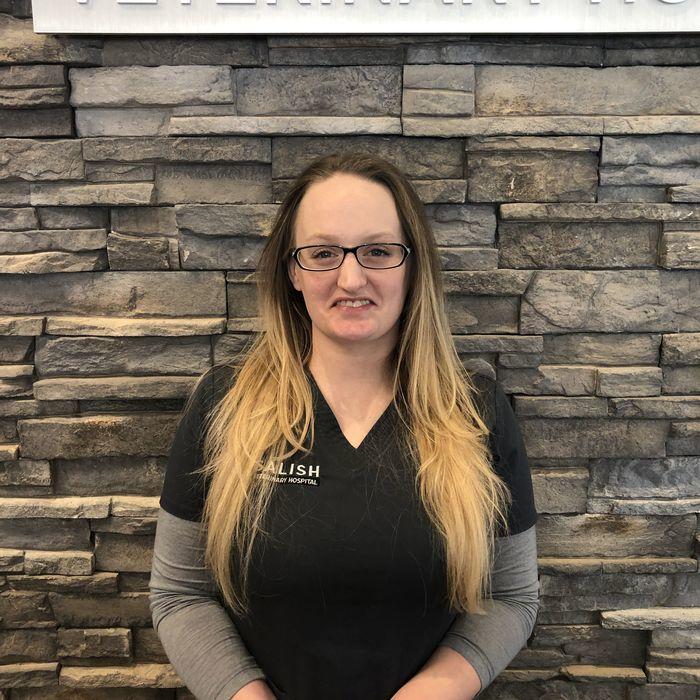 Rachel Vet Assistant (In Training)
Rachel began working with Salish in January 2020. She's a small town girl who split time between Snohomish and Snoqualmie growing up. She loves all animals and currently has a Chi-weenie named Daizee. She enjoys music, being out in nature and watching movies. She is excited to learn and grow with her career in veterinary medicine.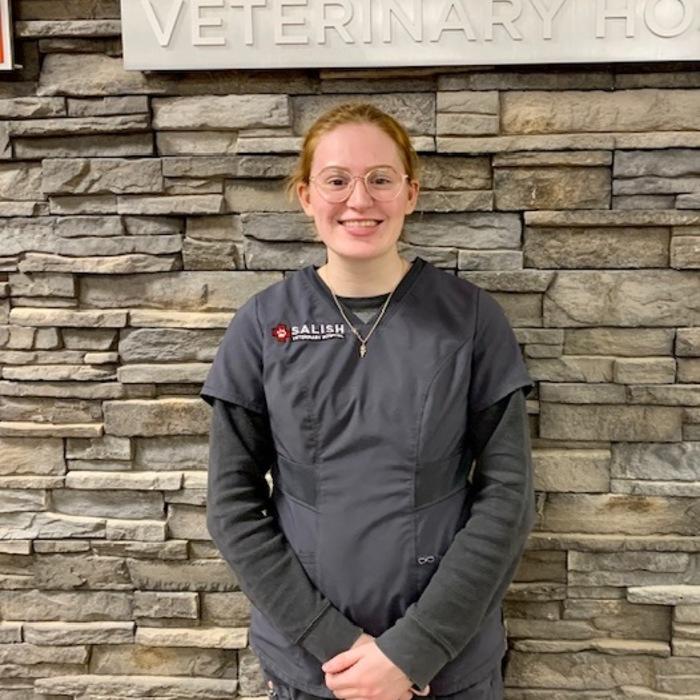 Claire Vet Assistant (in training)
Claire started at Salish in November 2019 to pursue a career with animals after previously working at Starbucks. She loves hiking, camping, playing Mine Craft and is learning how to bake. She has a lab mix named Kai and an orange tabby cat named Little Bear. Since she has started, she has enrolled in Veterinary Technician school and is excited to continue to learn as much as she can about Veterinary medicine.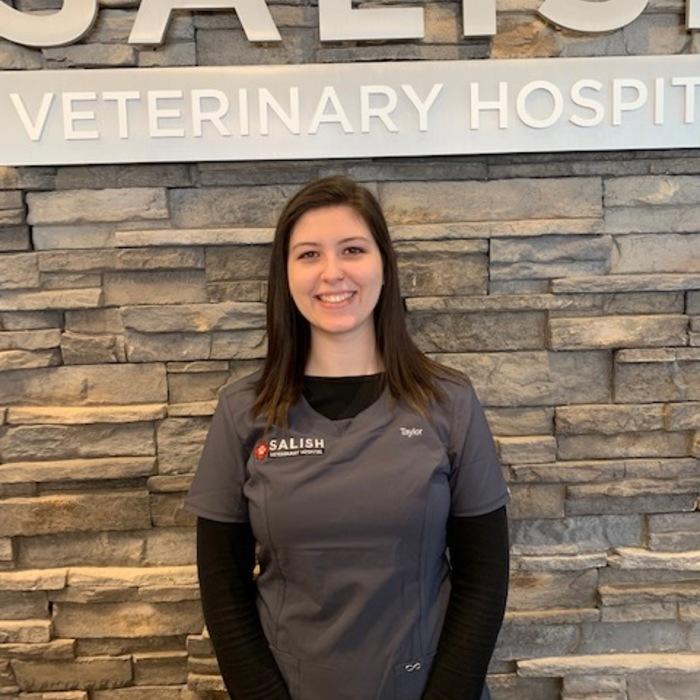 Taylor Receptionist
Taylor is from Virginia but has spent most of her adult life in Washington state. Her family has an adorable husky mix named Josie that she loves to spend time with when she is visiting home. She loves all animals, and will be starting school to obtain her veterinary technician license. Her goal is to one day work as a technician at a zoo. In her spare time, she coaches lacrosse for 3rd and 4th grade girls.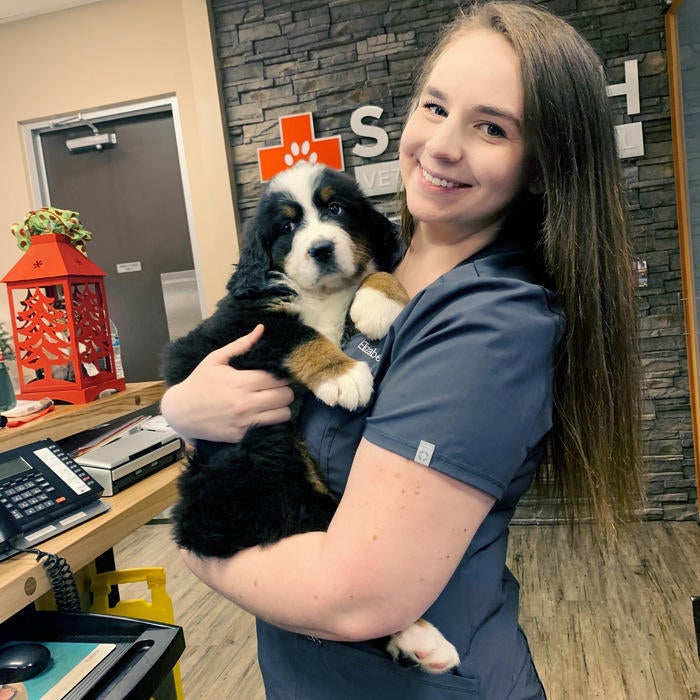 Elizabeth Receptionist
Elizabeth grew up in Puyallup and moved to Snoqualmie in the summer of 2019 with her husband Zach and two sons Colby and Sawyer. She is new to the veterinary field but has always loved spending time with animals. She has 3 rescued 4 legged family members, a mixed breed dog named Griffyn and 2 cats named Fireball and Sved. Elizabeth describes herself as "indoorsy" and a perfect day for her would be relaxing with a book or binge-watching a show on Netflix.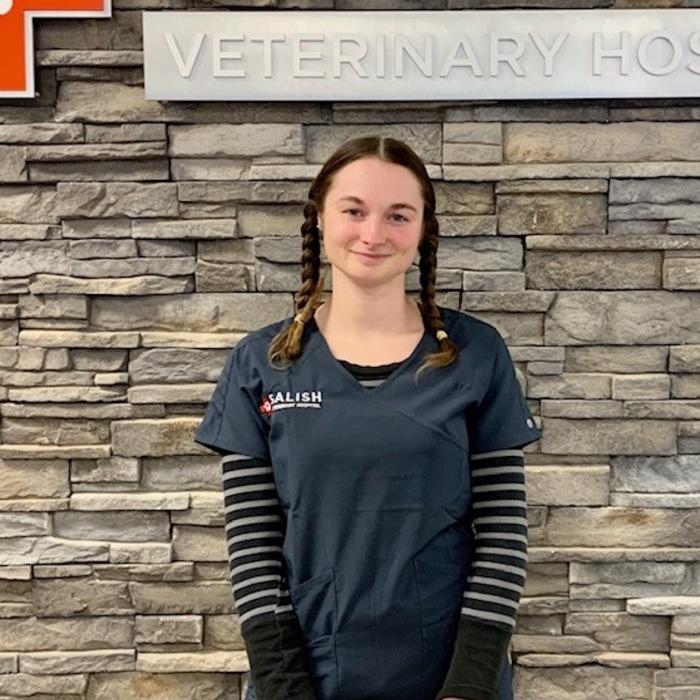 Holly Receptionist
Holly grew up in Duvall and has lived in various areas of the Snoqualmie valley. She is new to the vet industry but has worked with ponies and has volunteered at Pasado's safe haven, where she enjoyed spending time with animals in need. Her feline companion is an 8 yo tuxedo named Action Kat. He lives up to his name by going on adventures like mushroom picking and rafting trips. Action Kat, or AK for short, has been accompanying her on trips since he was a kitten and when they hike, he likes to lead the way and find the new patches of mushrooms. During her time off Holly travels the US perusing her rockhounding hobby and in her spare time she enjoys rounds of disc golf, climbing, kayaking and snowboarding to name a few from her list of growing hobbies.